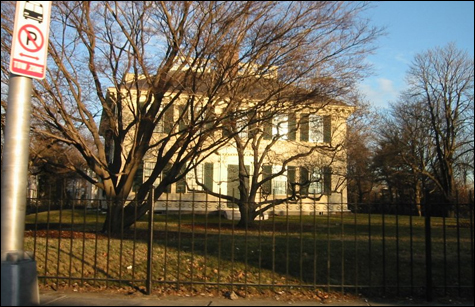 Rose Polenzani and Sharon Lewis, Loring-Greenough House, June 20, 2007

By: MICAH C. BELLIEU
6/25/2007 2:07:05 PM

HOME-STYLE FOLK: Rose Polenzani and Sharon Lewis serve it up at the Loring-Greenough House.
It's sweaty, there are drinks (as long as you like Sprite), and 40 loyal fans of two singer-songwriters — local favorite Rose Polenzani and the UK's Sharon Lewis — are in place. This is no club show, however, but the third sellout for the Notlob House Concert music series at the 18th-century Loring-Greenough House in Jamaica Plain. With its low kitchen counters, narrow hallways, and squeaky wooden floors, the Loring-Greenough is far from your typical concert venue. And Jeff Boudreau, Notlob's de facto MC and booking agent, seems both stressed and first-day-of-kindergarten excited as the evening begins and the crowd stroll into what might at one time have been the house's "cocktail hour" room. Even before the show begins, you realize how intimate the space is: front row means you can reach out and kick the performer without even standing. You have to sit in the second row to get any perspective.
This is the last gig of Rose and Sharon's "Kings and Queens" tour, so it's with sweet sorrow that they greet the crowd. They trade off singing lead, but both stay in the spotlight throughout, with Rose playing guitar and Sharon piano. Rose's airy yet grounded delivery blends nicely with Sharon's graceful voice, which takes on something of a Victorian sensibility. The sole amplification comes from the small Crate amp tucked behind the two performers; it enhances the rawness of their folksy storytelling, and the room's high ceiling creates a warm, natural reverb. For the encore, they snap their way through a song they wrote on the road together. It's hard to play guitar in a car, they explain.
Boudreau intends to continue booking singer-songwriters in the roots, newgrass, and Americana veins through April of 2008. And beyond that? He givesa big smile: "As long as there are musicians who are interested and fans to support them." For information about the Notlob House Concerts, visit
www.myspace.com/notlobhouseconcerts
.
Copyright © 2007 The Phoenix Media/Communications Group